Soldering on in the Not So Deadmonton series, I bring you everyone's new favourite past time: board games. Yes, it's shocking that Edmonton was so late to the board game craze. Okay, I lie, it's not shocking; Edmonton is always the last to arrive onto the scene. I remember being back in Toronto and walking by Snakes and Lattes, thinking this would kill back home. They opened back in 2010.
Well, making up for lost time, there's five places in town to get your nerd on.
Table Top Cafe 1.0
Table Top Cafe 2.0
Hexagon Cafe
The Gamers' Lodge
Board N Brew Cafe
Let's gooooooooooooooooooo.
Table Top Cafe 1.0
Table Top Cafe. The OG. They opened back in October 2013 (which actually is surprising). Thought it wasn't that long ago. I know nothing.
What else is important, the hours:
Monday – Thursday: 2:00pm – 12:00am
Friday: 2:00pm – 2:00am
Saturday: 10:00am – 2:00am
Sunday: 10:00am – 12:00am
The spot is in a random industrial area but it is nestled right beside Saigon Hut. If you know where the south end soccer centre is, you'll find TTC easy.
The food and drink menu is up front.
But they have a full menu now. Click here to see (1, 2, 3, 4 and 5).
Tea options if you don't want to drink.
There's tons of board games available for purchase. These ones were up front.
What do you need to know about Table Top. It's $5.00 to play an unlimited amount games. I've been hear many times but haven't been in awhile since TTC 2.0 and the other spots have opened up. Bring along a crew of board game friends and you'll have a good time.
We played a game called Camel Up. Cue eye roll.
Table Top Cafe 1.0
http://www.tabletopcafe.ca/
5716 – 75 Street
Edmonton, AB
(587) 524-5323
Table Top Cafe 2.0
Table Top's newest location. They took over an old restaurant (Dahlia's Mediterranean Bistro). Opened in January 2016, 2.0 is way more spacious than 1.0 (capacity doubled to 100 people).
Hours are better than their OG location on weekdays:
Monday – Thursday: 11:00am – 12:00am
Friday: 11:00am – 2:00am
Saturday: 10:00am – 2:00am
Sunday: 10:00am – 12:00am
There's a decent selection of food and drink options.
They even have three private rooms which you can book for larger groups (two rooms can comfortably fit 10 and the other 8). Only catch is you have to spend a minimum of $100.00 to reserve it but that shouldn't be too hard with the $5.00 base fee plus drinks and food.
Interesting that if you visit before 3:00pm, you only pay $2.50 to play. Good deal. Too bad it's only valid Monday to Friday. Maybe when I'm unemployed.
Table Top Cafe 2.0
http://www.tabletopcafe.ca/
10235 – 124 Street
Edmonton, AB
(780) 705-5552
Hexagon Cafe
Hexagon Cafe is another board game cafe to open up shop back in August 2014, shortly after the success of Table Top. Run by a couple (both with backgrounds in architecture), you can tell by the slick logo; a fusion of two Settler of Catan tiles.
Happy that they have a second location in Calgary. Right in super trendy Kensington.
Hours:
Monday – Thursday, Sunday: 9:00am – 11:00pm
Friday – Saturday: 9:00am – 1:00am
No reservations on Friday to Sunday so get there early if you want a spot.
The main differentiation factor here is that HC charges $2.50/hour to play. You're paying for the location – right on Whyte Ave (just past the train tracks). Wouldn't hurt to pop into Kaengthai Bistro or Yelo'd before or after.
If you've never been, it works in four easy steps.
The menu is a small one pager but there's drinks (coffee, tea, beer, wine and cider) along with a couple small food items/snacks.
I really like the layout of Hexagon – it's much more cozy and better set up. Couple tables for parties of 2's, couple more for 6's and then two large communal tables.
Interesting to see that they have a Monday night "Mingle" sessions. Not sure if this actually pans out as I came here on a recent Monday and it just looked like people were sticking to their own group of friends but the idea is there.
This is their 2 player shelf. Lots of small and quick games to choose from.
The main shelf of games which goes alphabetically.
This ones a good one for two: it's called Kulami. Kind of a hybrid between chess and checkers (sort of not really).
This on I'm sure you've all heard about: Codenames.
This one is a variation, Codename Pictures. All I know is being the Codemaster is bloody hard work.
This last one is called Enigma. If you like working out puzzles with a time limit, this will be your jam.
The Hexagon Board Game Cafe
http://www.thehexcafe.com/
10123 – 82 Avenue
Edmonton, AB
(780) 757-3105
The Gamers' Lodge
The Gamers' Lodge is another board game cafe to join the fun, officially opening in May 2016. This one is uber close to Table Top 2.0. Nothing like some stiff competition to keep things interesting right?
From what I can gather, what sets them apart is that kids under 12 play for free (if accompanied by an adult). The rest is same same: $5.00 base fee for unlimited play.
Hours:
Monday – Thursday: 2:00pm – 12:00am
Friday – Saturday: 11:00am – 2:00am
Sunday: 11:00am – 11:00pm
The inside is way more spacious than I expected. Did you know this place used to be a massage supplies spot 😉
There's a pretty decent selection of games you can buy. I did not know their was a Game of Throne's version for Settlers of Catan!
There's a different league for every day of the week.
A couple of their food and drink menus.
Lunch specials on the weekend.
Typical beers from Alley Kat, Yellowhead and Situation Brewing.
Their board selection is pretty diverse with over 700 games.
We played a couple games, including this one aptly named Battle Sheep.
We ate a couple snacks. Those cookies ($1.00) were surprisingly good. Popcorn ($4.50) was so saaaaaaaalty.
We had a fun time and I'd come back again.
The Gamers' Lodge
http://thegamerslodge.com/
10459 – 124 Street
Edmonton, AB
(780) 428-4880
Board N Brew Cafe
The newest entry into the board game market is Board N Brew Cafe. I've been here a couple times and have nothing but good things to say about it.
Their hours are great. Similar to Table Top.
Monday to Thursday: 2:00pm to 11:00pm
Friday to Saturday: 11:00am to 1:00am
Sunday: 10:00am to 11:00pm
Candy galore up front. The three brothers (and brother from another mother) that run BNB are awesome. Incredibly friendly, they take the time to introduce themselves and go out of their way to teach you games.
This was one of their chalkboard menus advertising their eats.
They updated their menus recently. This was the most recent version (July 2017).
$5.00 flat fee to play games. The beer flights ($13.00) is a new addition.
This is the board game collection. Like how they colour coded by the type of game along with the number of players and difficulty level.
Another view of the board game shelves. There's four walls worth!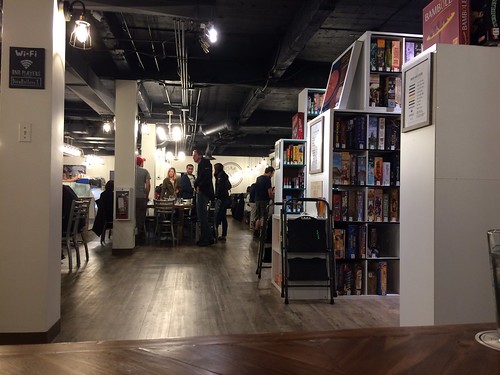 This is the booth/table areas in the back of the building. Note, there are private rooms (the black doors).
This is the front seating area by the windows. Cute use of Scrabble tiles.
Situation Brewing Afternooner tea saison ($6.50)

I had this when I first went to Situation Brewing. Light and perfect to drink while playing some games.
Spicy Italian calzone ($13.00)

I still need to make it out to Battista Calzone one of these days but the calzone was tasty and filling.
This game was actually pretty fun and easy to pick up. It's called Patchwork.
This is also a good one called Abalone. You basically are trying to push the other person's balls off first. It's a bit like Chinese checkers.
This was a random game called Onitama. It's like chess but for babies. Just terrible.
Parking is kind of crappy but you can find some street parking up or down the hill. Don't be lazy; walk.
Board N Brew Café
https://www.boardnbrewcafe.ca/
9929 – 103 Street
Edmonton, AB
(780) 757-8262
That's all she wrote. Lots of board game options now in boring old Edmonton.