There are a lot of good Italian places in Edmonton but when it comes to quality and price, nothing beats Cafe Amore Bistro. Hands down, this is one of my favourite places in the city.
This is the awning in the back where you can find a decent amount of parking spots. If not, there's tons of street parking.
There's always specials going on. A few feature cocktails being advertised out front.
Inside, there's normally a featured appetizer and pasta up on the chalkboard.
Every time I go to Cafe Amore, it's busy. One Friday, it was so slammed for lunch that they were turning people away. Be smart and make a reservation!
The interior is quaint and cozy with family photos lining the walls/ceiling and checkered tablecloths round out the traditional Italian décor. Sit at the bar, tables or enjoy the breeze with their outside patio, you can't really go wrong.
The menu consists of two pages. Everything is delicious. Seriously, I don't think I've ever ordered a bad dish. But what you want to zone in on is the "Daily Pasta Specials".
The best part? It's only $10.00! Yeah, that's not a typo. $10.00 dollars. I've been saving this review up so that I could try every pasta special! Mission accomplished.
Too bad they don't have buy 10 pastas and get one free type cards, I'd be soooo close to finishing one off. Haha.
I couldn't figure out the best way to organize all these pictures so I guess we'll go by most recent trips. Leeeeeeeeeeeeeeet's go.
Trip #1
A little belated birthday celebrations after we checked out Rock Jungle Boulders.
I can't remember what exactly this drink was but it cost as much as the daily pasta special. Light and fruity.
Aglio e olio ($10.00)

EVOO and minced garlic with pepperoncini sauce. Wednesday's pasta special. We actually ordered the penne but they messed up and brought us linguini. Still satisfying.
Trip #2
A trip with the parents because they'd never been or something along those lines. Came for a Tuesday night dinner.
Bread and olive oil ($7.00)

Nothing like a little bread and EVOO to whet your appetite.
Amore mussels ($19.50)

Italian sausage, prosciutto and red onions. You can drink that sauce, it's so tasty and even has a small spicy kick to it. Perfect for soaking up with the bread.
Special

Baked lasagna with penne and chicken (if I recall correctly).
Bolognese ($10.00)

Homemade tomato meat sauce. Tuesday pasta special! I wasn't kidding when I said these were worth it. You can easily have leftovers.
Trip #3
Another Tuesday visit but this time with family from out of town.
Bolognese ($10.00)

The penne version of the bolognese.
Aglio e olio ($17.00)

The non-daily pasta specials are still pretty reasonable priced.
Bolognese with sausage ($7.00 extra)

Add sausage on top of the daily pasta special for some protein goodness.
Amore pescatore ($35.00)

Amore's signature pasta with king crab, prawns, mussels, baby shrimp and baby clams tossed in either a garlic white wine or tomato sauce. We went with the garlic white wine. Decent variety of seafood including crab leg, mussells, clams and shrimp.
Sweet curry ($24.00)

Honey curry chicken pasta. Their description says it perfectly – it was the perfect balance of sweet and heat.
Trip #4
This one was with a friend. It might have been date night.
Amore mussels ($19.50)

A massive bowl of mussels. This is a huge appetizer for two people FYI.
Sambuca rose ($10.00)

Tomato and cream sauce blended with Sambuca liquor. Monday pasta special! Tantalizing sauce.
Truffle & diced tomatoes ($25.00)

Decadent truffle oil cream sauce with chicken and mushroom. Another delicious dish.
Trip #5
Sausage, potatoes and bell peppers ($16.00)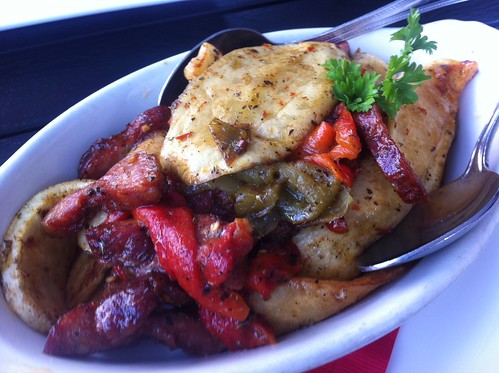 I don't think this appears on menu anymore so you're just SOL.
Aglio e olio ($10.00)

Perfectly al dente. Add some chili flakes and parmesan cheese and you're golden. I could eat this every day of the week and be one happy customer.
Trip #6
An ex co-worker lunch to celebrate her birthday.
Pesto alfredo ($10.00)

Cream sauce infused with basil pesto. Thursday pasta special! The sauce is creamier and heavier than the other specials.
Pacific ($24.50)

BC smoked salmon and baby shrimp in a hearty cream sauce. If you like cream and seafood, this is your dish.
Meatball panini ($11.50) with provolone ($3.00)

Homemade seasoned meatballs. You can only get their panini's at lunch (or till 4pm if you're a late eater).
Trip #7
Another lunch but this time with Dbone. Only time I would try their paninis.
Vongolé ($10.00)

Baby clams sautéed with tomato or garlic white wine sauce. I went with the latter. Friday pasta special!
Sausage and rapini ($12.50)

Hearty broccoli rabe and homemade Italian sausage. Another panini option. Rapini is a nice change of pace.
I've already praised Cafe Amore before so if you haven't gone already, WHAT ARE YOU WAITING FOR. Can't wait for them to open up their new restaurants too!
Cafe Amore Bistro
http://www.cafeamorebistro.com/
10807 – 106 Avenue
Edmonton, AB
(780) 477-7896